In remembrance of Eddie Garcia
It is with deep sadness that I write to inform you that Sensei Eddie Garcia passed away at 3 am this morning Friday, June 13, 2008.
Please join me expressing sympathy to his wife Dolores and her family for their loss.
Sensei Garcia influenced us on and off the karate deck with his spirit, energy and life. He will be dearly missed.
Hanshi Robert Scaglione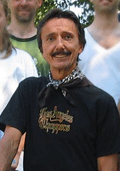 The Ueshiro Midtown Dojo lost one of its finest and most loyal members. Sensei Eddie Garcia passed away in his sleep on June 13, 2008, after a long battle against liver and lung disease.
Sensei's huge spirit reached into all corners of the USRKUSA organization. His belief in the philosophy and traditions of our style was unshakable. I am profoundly moved by the show of support from the Midtown deshi towards the Garcia family during Sensei's illness. My memories of Sensei in his final year are inextricably woven with memories of your loving and helpful care. Domo arigato for your sincerest commitment to Sensei - one that extended far beyond the walls of the dojo.
Sensei Garcia radiated a love of life that comes only to those who have miraculously survived the world of street violence and addiction. No day went by unappreciated; no student left untouched, no opportunity to leave a positive mark passed by. Sensei aspired to follow the seven virtues of the warrior. Foremost was Benevolence. His magnetic personality drew in friends while drawing out the "Can do!" spirit in all of us. Sensei's story teaches that life is not to be merely survived. It is an evolving adventure to be lived until one's final breath. For this lesson, we owe Sensei Garcia an enormous debt of gratitude.
Kyoshi Michael Mackay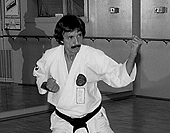 I have had the pleasure and honor to learn from Sensei Garcia. During my training with him, he asked me many times to translate words for him in Japanese but it was very hard to translate his humor into words that made sense. I will always remember his sense of humor and conviction to support the traditions of our school.
In Japanese custom, we light incense to help the spirits of the deceased find the places of their fondest memories. I hope that we can light some incense in the dojo to let Sensei know his life has truly touched the hearts of his students, instructors and friends. The burning of incense for those who have passed is called Oshooko. When we burn the incense, it tells the spirit it can come visit, that it is always welcomed here. I believe the dojo is the perfect place for Sensei Garcia to find!
Sam Suzuki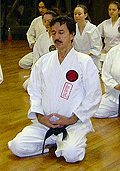 Sensei Garcia has left an indelible mark on the hearts and souls of everyone who came into contact with him. His spirit and tenacity were larger than life.
I found a quite moment this afternoon to sit by myself and reflect on this wonderful man. As I started to reminisce I could practically see Sensei on the deck, firing up the class with his enthusiasm, telling everyone to "hit hard" and "extend the line!" His philosophical thoughts and expressions gave everyone a "window to his soul." You knew what kind of person he was and how much he wanted to give to others. What an honor to have known him and to have shared in his zest for life.
Sensei Garcia will be missed - we miss him already. But we all know what he is telling us now - "Keep moving forward."
John Bottega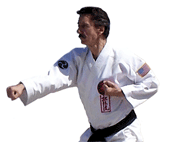 I am honored to have known Sensei Garcia as a regular attendee of his Friday class for some time. Sensei filled us with so much of his karate knowledge and more importantly he gave to us his life's knowledge. Growing up in Hell's Kitchen, Sensei had endless stories of fighting, loving and laughing. We would always joke that his stories were embellished but we didn't care because he made us laugh and we loved to hear them.
A few months back when Sensei's illness was made public, a few of us delivered a poster of Eddie to him and Dolores. You should of seen Sensei's face. He lit up light a firecracker. He couldn't believe everyone signed it. The remarkable thing about the visit was that while we went there to give Sensei a gift, it was us who left with gifts. Sensei gave us each a book. They were part of his Martial Arts collection. Mine was The Way of the Warrior. That title sums up who Sensei Eddie Garicia was and how he will remain in our hearts. Sensei Garcia was a giver. He kept giving to the very end.
"BIG MAN WALKING KNOWS NO GATE" was Sensei's favorite quote. I am humbled to pass along a little something of who this man truly was.
Jonathan Cohen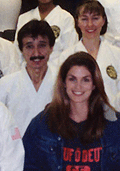 I know we will all miss Sensei Garcia so much at the Northampton Dojo. He rarely missed an opportunity to visit here despite the distance, and was always so courteous and appreciative of those opportunities, as if we were doing him an honor rather than the other way around. I always enjoyed the metaphors he came up with on the deck.
Sensei Garcia had such a way with the ladies, too - and always loved Dolores more than life itself. A true gentleman.
Mary McKitrick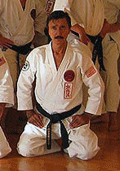 Sensei Garcia was one of the most dedicated individuals in all aspects of his life. We have lost a great friend and brother.
I want to share my most recent experience with Sensei when I phoned him at the hospital. I simply called to see how he was doing, as I am sure it was not an easy time for him. He did not dwell on his own situation for very long, and proceeded to ask me about the new club I just formed. I told him it was quite challenging, but he proceeded to reassure me to stick with it and gave me some incredibly brilliant advice. He guided me in a very nurturing and loving way that I will appreciate for the rest of my days. Sensei was never selfish even in his most trying hour.
Boris Grossman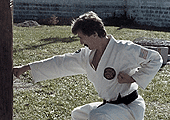 Words can not express the sadness I feel today with the passing of Sensei Garcia. Just about every Sunday for the last five years Sensei Garcia would phone me to "Check in." But several Sundays came and went and I didn't hear from him. Then the post announcing he was hospitalized. I contacted Kyoshi Seeger for the hospital telephone number and called him right away.
He sounded like the "good old" Sensei Garcia that we all knew and loved. First he apologized for not calling. Then he asked about me, my daughter, how work was going and even threw in instruction on several kata and told me to practice the bo every day. He finished the conversation as always with, "When are you coming to NY?" Even at his most ill he was concerned about someone else. As it turns out, that was to be our last conversation. Sundays for me will never be the same.
Sensei Garcia was a great man with an even greater spirit. I am a better person for having known him.
Edye Harkenrider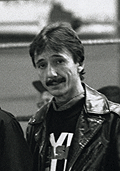 I will never forget you. I will always cherish the times I spent with you on and off our spirited Karate decks, on road trips with Hanshi, sharing hotel rooms, sharing meals, sharing stories, sharing laughs, and sharing Life which you filled with Joy and Vigor for us all. You taught me the meaning of the word "Magnanimous." You embody this word. I look forward to continuing the learning and training with your spirit and energy. Onegai-Shimasu...
David Tamir
Even though I did not have the fortune of knowing Sensei Garcia as well as many of you, I am greatly saddened at the loss of our fellow karateka. Thank you, Sensei, all for your memories. I will truly miss your poetic corrections, the sugar that I am blessed to have received. I will miss your friendly face, encouragement, humor, kind spirit, and (most of all) your warm smile.
Keith Eng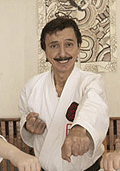 Sensei Garcia was one of the few people in my life who never saw a gate in any path that he didn't want to take. He never let age stop him from starting karate in his mid 40's. No matter what time of the day, he always was out recruiting new students to the dojo. And most importantly, he never let mean people crush his spirit to keep coming to the dojo.
My first year Chinese history teacher at Mt. Holyoke told me something in class I will never forget: "They say that you aren't really dead until you've been forgotten." Which is why I don't believe Sensei Garcia ever will die. His spirit, teachings, and memories will pass on from student to student, years and years from now. He will always be remembered for his passion and dedication to karate, and even years later we will still feel his spirit guiding us through class, clapping his hands after each kata count.
Katie Roche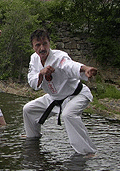 Garcia Sensei was a legend, on the deck and off, the true warrior, with true Bushi-do spirit. He lived daily the creed, "Big Man Walking Knows No Gate." I knew this about Garcia Sensei the first time I met him some 20 years ago. His street-wise persona and the martial way cut with a knife and bled love, strength and compassion for all, especially anyone with a ear to learn from his life-long stories and amazing personal quest. This is the true essence of karate-do: to do it, show it, love it, live it, be it - daily on the deck and off. To inspire people anywhere and everywhere, at any time to better ourselves. To laugh, challenge our minds, and be there for others with no motive other than to be a shining light for all.
Arigato Garcia Sensei! You lived the life you loved and loved the life you lived. I'm glad and fortunate to have met you as I continue on the path.
Preston Powell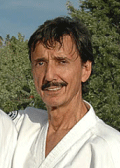 You taught me so much about the meaning of joy! Your enthusiasm for karate, for people, and for life itself was positively infectious and seeped into the hearts of each person crossing your path. Without fail, we could rely on you. Whenever Kyoshi Mackay or Kyoshi Baker would ask the group, "Does anyone have anything to add?" Boy, did you ever have something to say! You would speak up with a beaming smile and tell a story that we had usually heard several times before. But you'd tell it like it was the first time! The story would wander and you'd have us all laughing, regaling us with tales of your life on the streets and tossing in random metaphors in a way that only you could do.
And just as you were often first to speak, you were always the first to greet new visitors wandering into the dojo. You'd be the first to break formation and walk across the deck, demonstrating and teaching a new student. You were the first to assemble small groups of kata before a big workout. Without ego or bravado, you were the leader showing us the way.
You were always so supportive and reassuring. You made us all feel good about ourselves. It did not matter the problem or obstacle, it would be overcome with certainty. A big man walking knows no gate, indeed.
Larry Link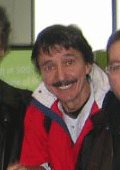 As all of us are, I am deeply saddened by this extraordinary man's passing. He was largely responsible for my stepping on to the deck ten years ago. His enthusiasm, joy and vigor have obviously been a blessing to so many. I will never forget the first time he demonstrated a double punch, exploding with "BAM! BAM!" His dedication to karate and his way of making each of us feel so special are gifts to remember and treasure. His spirit, so strong in life, will be with us each day as we remember him.
Lisa Harvey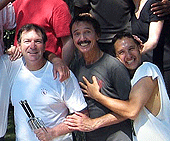 Today I gave the class three corrections: step big (A big walking knows no gate), lengthen the line, and hit HARD! I had received these corrections from Sensei Garcia many times myself.
After class we told Sensei Garcia stories. Some of us were speechless at the loss of such a great warrior, while others tried the best they could to find words that described the man who knew how to befriend everyone. One student told us the secret to his surviving the 45th Anniversary promotion. He said Sensei Garcia told him to simply "Make a choice."
While Sensei Garcia often told long stories, sometimes he kept it simple and just told it how it was. I wish I could tell the perfect Sensei Garcia story, but there are so many. I will just say I always felt great in his presence. He was and is larger than life.
Rob Neff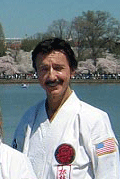 Sensei Garcia was a light in the dojo every time he was there. An honorable and kind man with a relationship with everyone in the dojo that was truly outstanding. Whether you were a new student or fellow Sensei/life-long friend, Sensei Garcia brought warmth with him which radiated in every class.
Stephen Day
As others have mentioned, "A Big Walking Know No Gate" was one of Sensei Garcia's favorite karate sayings. Sensei's walk along the Ueshiro Shorin-Ryu path knew no gate and, knows no gate even today. His walk was long in years (although we all wish that it would have lasted many more) and it was broad. He shared our art with hundreds of deshi now spread far and wide, as the testimonials that have poured in from across the globe attest.
Emiliano Mazlen
There is much I could say about fond memories I have of times spent with Sensei Garcia: training, sharing or just talking on the phone. He was not only a warrior spirit, but a real friend of the deepest level. What strikes me most when I think of Eddie is that he was the living definition of the word Sensei. He had the uncanny ability to see deep inside of everyone and find the riches and value within. Then he took the time and love to help each individual learn how to cultivate and find the beauty of those values within themselves.
Shelley Schlossberg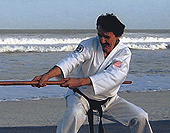 When I first met Eddie I knew right away he was a man of conviction and huge spirit. His tireless effort and dedication on the deck was only matched by his genuine compassion and big smile for anyone who crossed his path. He disarmed you with kindness and sincerity. Eddie didn't come to the dojo to learn to fight, for this was something he already knew well. He came to find the light within and I believe he found it. He conquered the inner struggle we all face in life and by example he poured that onto everyone he came in contact with, on or off the deck.
Stars can go out but their light shines forever. Eddie was such a star, and I will deeply miss him. We have lost a brother but his light will shine on for all.
Lou Suffredini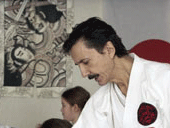 On behalf of the Garcia family, I would like to thank the entire Shorin Ryu Karate community, led by Hanshi Robert Scaglione, for all their letters, visits, phone calls and other gestures of support in both word and deed during my Eddie's illness. What Eddie loved most about karate - even more than the skills and philosophy - was the people. You were his friends throughout, and he embraced you with all his heart for your willingness to embrace him. I don't know what we would have done without you.
Although the loss of Eddie is unbearable, I believe his passing has brought all of us closer together. And may we always keep Eddie close to our hearts.
With deepest gratitude,

Delores