In remembrance of Dan Nichuals
Sensei Dan Nichuals passed away on April 14, 2006 at 4 pm. He was a most honorable man, a devoted husband, a wonderful father and a skilled Sensei/Karateka, well respected by his students and by all who had the pleasure of knowing him. Dan was not one to back down from a challenge or responsibility and he never gave up his battle against pancreatic cancer. On Sunday, April 9, 2006, he was wearing his gi, and I had the honor of training with him in his dojo at Pelham Manor, NY, a memory of him I will always cherish. Dan will be missed by all of us of Ueshiro Shorin-Ryu USA.
We have lost one of our longstanding and most valuable members, a Sensei who trained hard and, by virtue of his upstanding conduct and merit throughout 25 years in karate, played an integral part in setting the exceptional standards of our organization today.
Hanshi Robert Scaglione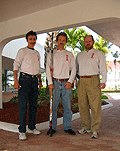 The shock of Dan Nichualsí passing has been felt by all who knew this vibrant man. True to the warrior code and his abiding love for his immediate family, Dan decided to fight the battle against cancer without spectators, to "pull out all the stops" and overcome his adversary with none of us the wiser. His strategy reflects an internal strength and humility few can fathom, let alone muster in the face of a debilitating illness.
Although secluded in his final weeks from many loved ones, Dan never stopped thinking about his extended karate family and the wealth of fond memories forged over many years. Indeed, such reflections brought him tremendous gratitude and peace.
Kyoshi Michael Mackay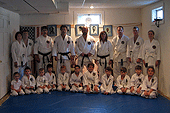 Iíll always remember Sensei Dan Nichuals from his instruction to me while I was a ro-kyu white belt in 2002. Attending one of his 12:15 pm classes, a thunderous voice reverberated through the dojo, "This (jodan-uke)... is this (chudan-yoko-uke)... is this (gedan-uke)... is this (chudan-zuki)," emphasizing a perfectly straight wrist with each variation.
While the voice was intimidating as I struggled to train my body, his words still echoing through the dojo, it paled in comparison to the feeling when I would finally "get it" and keep my wrist straight, causing an even louder, "Thatís it!... Just like that!!" to erupt, filling me with confidence and burning in a lesson to carry me through every future demonstration of these techniques. I seem to hear it now more than ever in my mind when practicing.
Stephen Day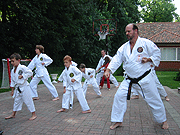 I know I am only one of so many who can tell stories of how Sensei Dan Nichuals touched each one of us in some way or another during his journey through life. He truly was a man with tremendous strength and spirit.
But what I will remember most was the way he could bring calm. It seems before every test I took, Sensei Nichuals would come over to me and say a few words of encouragement combined with a pat on the back Ė a vote of confidence and a reassuring gesture that carried onto the deck. He had a way of bringing the best out in everyone.
Sensei John Bottega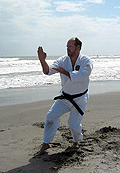 We last trained with Sensei Nichuals probably in October, 2005. I remember a quote which I always attribute to Sensei Nichuals, which he had learned from Hanshi:
"Life, at its best... at its best... is a struggle."
Although I am not particularly philosophical, I apply this notion every day. I have repeated it over and over.
I canít say I was as close to Sensei Nichuals as many of the senior members of Ueshiro SRKUSA, but I think Sensei exhibited so many traits which we wish we had ourselves. And for that my son and I are grateful to have known him. Our time with him was a gift.
Dave Blide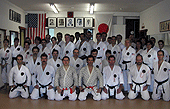 Sensei Dan was one of the True Warriors of Shorin-Ryu Karate USA.
A rock upon which the foundation of our system has been anchored.
Tough. The Man was tough.
He fought till the end.
May we all be as courageous as he has demonstrated.
Sensei Chris Barnes